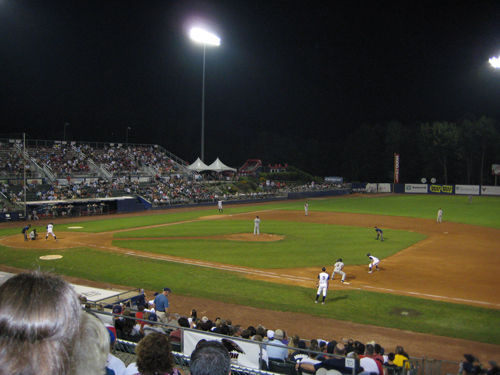 Take yourself out to the ballgame on Wednesday, August 22, 2012 for Dollar Night with the Hudson Valley Renegades. All you have to do is bring a toiletry or personal hygiene item to donate to ARCS' emergency pantries, and you'll get a general admission ticket to that night's game for just $1! The game starts at 7:05 pm as the 'Gades take on the Connecticut Tigers at Dutchess Stadium, located on Route 9D in Wappingers Falls (close to Beacon, the Newburgh-Beacon Bridge and Route 84). The Renegades put on quite a show in between innings too with lots of contests, singalongs, and games for all ages. Snagging a ticket for $1 makes this a great family activity–everyone who brings at least one toiletry item gets in for just a buck!
PLUS, the 'Gades will be handing out packets of their 2012 season trading cards. Look for a special ARCS card in your pack!
Suggested items to bring:
toothpaste
toothbrushes
shampoo and conditioners
soap
anti-bacterial hand soap
shaving cream
moisturizer/lotion
household cleaners (countertop cleaners, glass cleaner, etc.)
paper towels and toilet paper
laundry detergent
For directions to Dutchess Stadium and more info about the Renegades, go to www.hvrenegades.com. For more details or questions on appropriate donation items, please call (914) 785-8283.