Join AIDS-Related Community Services and the Hudson Valley Renegades–the area's only minor league baseball team–for one of two games to benefit ARCS' programs and services.
On Monday, August 24th, baseball fans, families and anyone looking for some fun can gather at Dutchess Stadium in Wappingers Falls to cheer for the 'Gades while fighting AIDS. Bring along non-perishable food items (such as canned or boxed goods) or personal hygiene products (like toothpaste, toothbrushes, shampoo, etc) to donate to ARCS' Poughkeepsie food pantry. The 'Gades play the Tri-City Valley Cats.
Can't make the 24th? Then grab your ticket for Thursday, September 3rd instead! The 'Gades take on the Brooklyn Cyclones. (Of course, you diehard baseball fans will want to come to both!)
Purchase your advance ticket packages for just $15 each, which includes:
General Admission Ticket
Free hot dog and soda
Renegades baseball cap
…and $5 goes back to ARCS! What a deal! It's an easy, entertaining way to help those in need while having a great time with your family and friends.
Order tickets online at www.GADESGROUPS.com (enter 'arcs' as the password) or download and send in this PDF form. Questions? Call Kaitlin Lambert at (845) 838-0094 or J. Dewey at (914) 785-8326.
Tickets not ordered online will be available at will call the day of the game.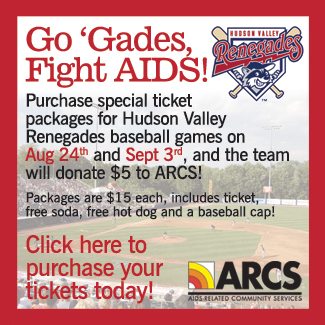 Tags: ARCS, Fight AIDS, hudson Valley Renegades, special