Food & Toiletry Closets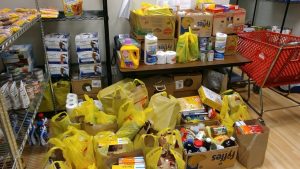 Food & Toiletry Closets: HVCS distributed over 20,000 pounds of nutritious food to over 1,500 clients in 2021. We also provide basic toiletries and household cleansers when available. By providing individuals and families with food and toiletries, we are working at the most basic level to support their efforts to remain strong and healthy and to help them more effectively meet the daily challenges of dealing with chronic illness.
Our food closets are open to all HVCS clients. We welcome additional donations of cash, nonperishable food items, toiletries and household cleaning products. Please contact us to set up a donation drop-off appointment at one of our offices.
Our Critical Assistance Programs, such as the Food & Toiletry Closets, are supported in part by: