PrEP Program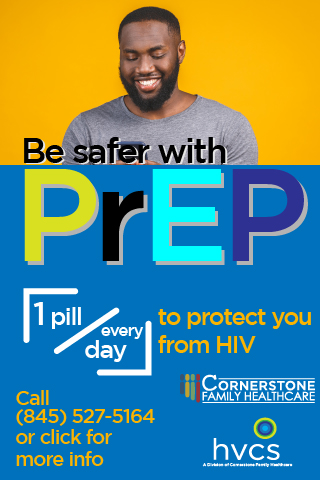 PrEP is an education and prevention program based in Orange County, NY. The name is short for Pre-Exposure Prophylaxis, which means taking a medication to prevent an infection rather than to cure it.
PrEP works by inhibiting HIV-1, the virus that causes AIDS, from replicating as it enters the body. Taking TRUVADA or DESCOVY for a PrEP indication helps prevent the virus from establishing permanent infection. The medications are indicated in combination with safer sex practices for pre-exposure prophylaxis (PrEP) to reduce the risk of sexually acquired HIV-1 infection in adults at high risk.
You must have a negative test for HIV before going on PrEP, and you must return for HIV tests every three months while on the medications.
Our PrEP Specialist is located in Orange County but can assist anyone in the Hudson Valley region. Clients outside of Orange County may see a medical professional via telemedicine appointments, and undergo HIV testing at a lab site near them.
Who is right for PrEP?
Clients who are HIV-negative that have an ongoing HIGH risk for transmission of HIV. Examples of HIGH risk are :

Clients who are HIV-negative in a sexual relationship with a partner who is HIV-positive partner

MSM ( Men who have sex with Men)

Males that have multiple sexual partners

Non-pregnant Females with multiple sexual partners

Persons who have had a positive STD test in the last 6 months
Clients who can adhere to a PrEP regimen (one pill, every day).
Clients who consistently lack the use of barrier protection is NOT a contraindication to PrEP.
How the PrEP program works:
The client meets with the PrEP Specialist and completes screening and intake.
PrEP Specialist reviews the client's insurance information.*
PrEP Specialist requests lab orders from PrEP Provider for client to complete, as well as schedules an upcoming appointment for initial assessment with Provider.
Client completes lab tests.
Client attends initial appointment and is prescribed a 30 day supply of Truvada or Descovy.
Client is scheduled for a 30-day follow up with the Provider after initiating PrEP.
*Lack of insurance is not a barrier to receiving PrEP! There are several programs available from New York State and the pharmaceutical companies to lower or zero out the cost of being on PrEP even if you don't have insurance.
For more information about the PrEP program, contact:
Naomi Kabalkin-Bunnenberg
NKabalkin@hudsonvalleycs.org
Phone or text: (845) 704-7624