We Are Anti-Racist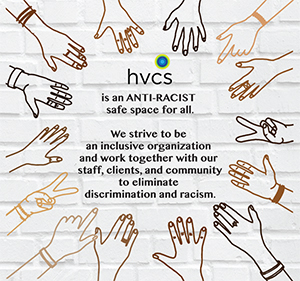 Last spring, several HVCS staff, responding to the nation-wide calls for racial justice, formed a Diversity committee. They met weekly to write recommendations for what HVCS could do to be actively anti-racist. These suggestions ranged from staff trainings to new language on paperwork to signage for our offices.
"The sign may be new, but the sentiment is not," said Saqib Altaf, Executive Vice President of Community & Behavioral Health Services. "HVCS has always had an anti-racist stance. This formalized and made it explicit." We are also working on new protections for client and staff whistleblowers.
We also denounce the recent rise in hate crimes against Asian Americans and Pacific Islanders.