Mpox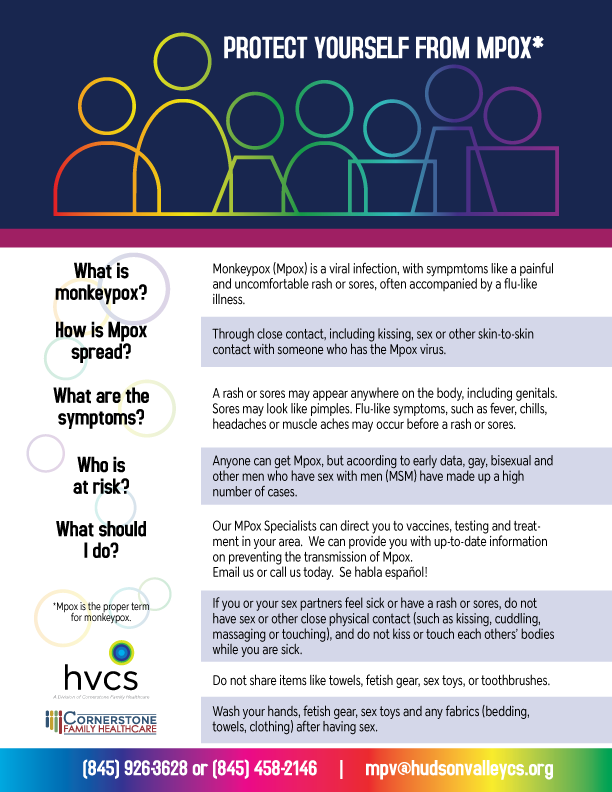 If you're concerned about Mpox, you can learn more about it here (including photos of an Mpox infection). Talk with our Wellness Coaches about medical care for your Mpox infection. We can help ease anxiety you may be feeling about possible infection, and educate you on how to reduce your risk for possible infection.
We also connect clients in Dutchess, Orange, Ulster, Sullivan and Westchester to healthcare providers for vaccination. The vaccine can prevent infection and lowers the severity of the infection if it occurs. If you receive the vaccine within four (4) days of infection, it may shorten the span of your infection and reduce the severity.
The Mpox vaccine is given in two (2) doses, 28 days apart.
Vaccines are available at Cornerstone Family Healthcare's Kaplan Family Pavilion (Newburgh), Blooming Grove Turnpike (New Windsor) and Port Jervis locations. We offer no-cost transportation to these sites. We can also help you find a healthcare provider near you who will administer the Mpox vaccine.
Contact us by calling or texting (845) 926-3628 or (845) 458-2146. Email us at mpv@hudsonvalleycs.org.
Social service and healthcare providers: we can also perform outreach and educational sessions for your clients, patients and staff. Contact us to schedule a presentation to your group.