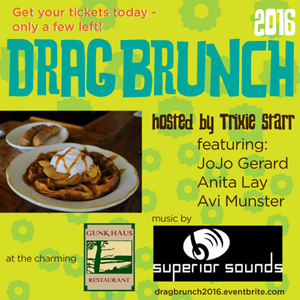 There are only a few tickets left for HVCS' Drag Brunch 2016! This event has sold out every year and we expect the same situation for Sunday's big show. If you've been waiting, now's the time to hop on over to Eventbrite to snag your tickets!
And, to add to the fun, our friends and supporters at Big Gay Hudson Valley hope YOU the audience will have just as much fun as our drag-tastic performers! They're giving away two pairs of tickets to their upcoming event to the two "Best Gender Bender Looks" at Drag Brunch. Don your best gender-switcheroo outfit or bend your gender outfit to the extreme and you might win a pair of tickets to see "Nasty Drew & That Harder Boy: The Mystery of the Family Jewels" in Rosendale on Saturday, April 16th. Outfits will be judged by our performers TRIXIE STARR, JOJO GERARD, ANITA LAY and AVI MUNSTER, so dress to impress!
Learn More About BGHV's upcoming show:
Great jumping catfish! Someone has snatched Lady Dubois' cherished family jewels! Never fear, stripper sleuths Nasty Drew and That Harder Boy are on the case. Watch as they hunt for clues, ward off menacing suspects and loosen up a few buttons of their own on their search to find the dastardly diamond deviant.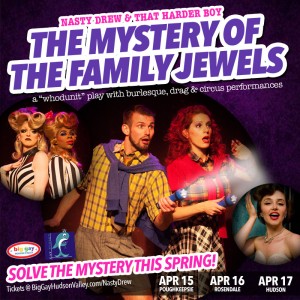 Presented by Big Gay Hudson Valley and GayHudson.com, Nasty Drew & That Harder Boy: The Mystery of the Family Jewels is written and produced by Chris Harder (who you may remember from BGHV's annual burlesque cabaret, HUNG With Care). This queer and campy "whodunit" play features some of NYC's hottest names in burlesque, drag and circus performance.
Learn more and watch the trailer online at www.BigGayHudsonValley.com/NastyDrew
Tags: Big Gay Huidson Valley, Drag Brunch, event, food, Friendraiser, gay, Hudson Valley AIDS Walk, special, transgender, Ulster