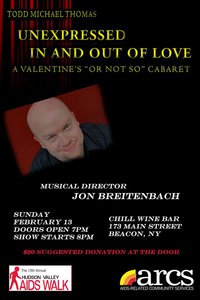 Updated:
ARCS would like to express our thanks to Todd Michael Thomas, musical director Jon Breitenbach and Jim and Patrick from Chill Wine Bar for pulling this event together! With over 50 guests in the audience, we raised more than $1,000 for the Hudson Valley AIDS Walk. Check out a few videos from the performance on our YouTube channel if you missed it!
Just in time for Valentine's Day! Chill Wine Bar, ARCS and Todd Michael Thomas invite you to an evening of love…well, some love and some not-so-full-of-love songs, and some that have nothing to do with Valentine's Day at all (but the word 'love' may pop up in the lyrics). With music direction by Jon Breitenbach.
ARCS will be there at 7 pm, but Chill opens at 5 pm
Show Begins at 8PM
$20 Suggested Donation at the door
All proceeds go to benefit the 2011 Hudson Valley AIDS Walk and ARCS.
Chill is located at 173 Main Street in downtown Beacon. Look for the blue lanterns in the window!
Tags: Chill, donations, event, Friendraiser, Hudson Valley AIDS Walk, special