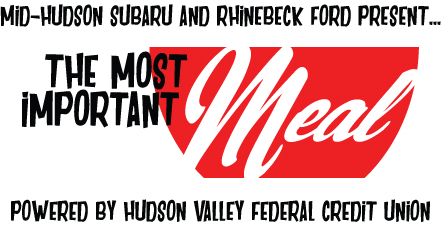 Help local people who are living with chronic illnesses get the nutrition and support they need to stay as healthy as possible!
Join HVCS, Mid-Hudson Subaru, Rhinebeck Ford and Hudson Valley Federal Credit Union at the Fishkill Recreation Center on Saturday, November 4, 2017 from 9:30 am to 12 noon for a fun-filled breakfast blast from the past. Every ticket includes a commemorative souvenir bowl so you'll always remember that the most important meal is the one you made possible for someone without enough food.
Fill up your bowl at the all-you-can-eat cereal and granola buffet including fun mix-ins, fruit, a variety of Hudson Valley Fresh milks and Dannon yogurt (gluten-free and vegan options will be available, too). You'll also get bottomless coffee, tea and juice served by your table host. Watch some of your favorite Saturday morning cartoons and bid on fantastic silent auction items–all while raising funds for HVCS' food and nutrition programs.
Our food and nutrition programs serve hundreds of people and families each year, but their government contracts can't fully support them, or they rely entirely on support from caring people like you.
Can't make it on November 4th, or want to make a donation to honor someone else! Send a Cereal-Gram! For a $50 donation, we'll send you or someone you love a commemorative bowl with a mini box of cereal and boxed milk. Plus, your Cereal-Gram will feed a family for a week!