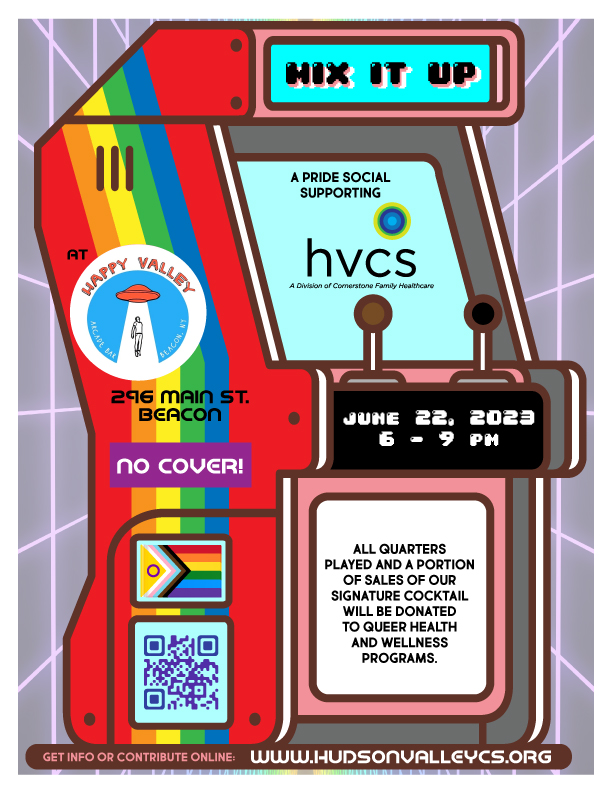 HVCS is holding its second annual Pride month mixer at Happy Valley in Beacon, NY on Thursday, June 22, 2023 from 6 to 9 pm. Join us for a casual, family-friendly hangout at Beacon's top active entertainment venue filled with classic arcade games, fun bar finger foods, wonderful drinks including local brews, and an open air courtyard to enjoy the spring weather. HVCS will be playing safer sex and harm reduction quiz games in the courtyard all night and giving away plenty of incentive items. Every quarter you play in Happy Valley's games will be donated to HVCS to support our queer health initiatives. These programs and rights may be under assault in other parts of the country, but we'll ensure people in the Hudson Valley stay connected to nonbiased, affirming healthcare and support.
Plus, a portion of sales of our specialty "Rainbow Road" and "Blinky's Revenge" cocktails–created just for us by Happy Valley's mixologists and only available at this event–will benefit our programs, too. There's no cover, and everyone is welcome (kids 12 and under must be accompanied by an adult, though).
Can't make it, but still want to help? You can donate any time, at any level, on our Donate page.
You can also help by downloading and sharing our event flyer: Pride Happy Valley 2023