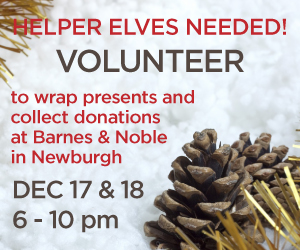 Calling all holiday helper elves! Help HVCS collect additional donations and have FUN at the same time! HVCS volunteers will be wrapping holiday gifts at Barnes & Noble in Newburgh, NY on Wednesday, December 17th and Thursday, December 18th from 6 pm until close (10 pm) in exchange for donation "tips." Barnes & Noble will supply the space, wrapping paper, tape and all supplies you need, and HVCS will provide the donation bin.
We need volunteers to staff the table between 6 pm and 10 pm on both nights. You can sign up for an hour, two hours, or the full shift–however much time you can spare!
To sign up, please call Anthony at (914) 785-8277 or email him.
This is a great way to make the holidays special for shoppers AND for HVCS' clients in need.