Posts Tagged 'Orange County'
Friday, April 1st, 2022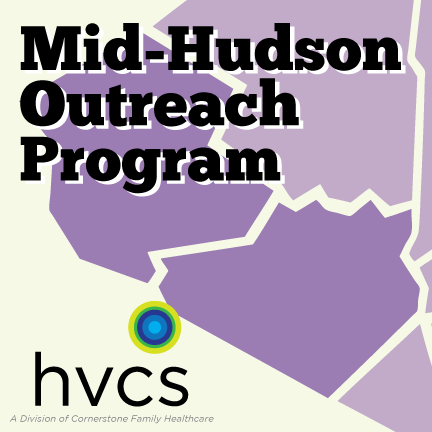 Starting today, Hudson Valley Community Services (HVCS) commences a new overdose prevention and harm reduction program people who use drugs (PWUD) in Orange and Sullivan counties. Mid-Hudson Outreach's goal is to expand access to MOUD (medication for opioid use disorder), Narcan (Naloxone) to reverse overdoses, and connect clients to available resources. These include HVCS' own Health Hub and Syringe Exchange Program (SEP), Expanded Syringe Access Program (ESAP), HIV/STD/Hepatitis C testing, case management, and food assistance. Ultimately, the program empowers clients to make safer choices that have a positive impact on their overall health.
Mid-Hudson Outreach staff will use a variety of cooperative relationships to monitor and seek out where PWUD tend to congregate. The Prevention Specialists and part-time Peer will distribute free harm reduction supplies and information to build rapport with new clients. Once a person expresses interest and enrolls in services, staff can assist them remotely for the duration of their enrollment. This enables PWUD who may be in a contemplative stage of their use to identify and follow their own goals. Clients will work closely with program staff in combating barriers impacting their needs. All participants will be offered safer injection supplies, Narcan training and kits, safer sex supplies, and other needed items to promote risk reduction and overdose prevention.
Special Focus on Rural Areas
Mid-Hudson Outreach was created specifically to improve access to care and increase syringe access for PWUD in remote, rural areas like most of Orange and Sullivan counties. The program will increase Narcan access and distribution; and decrease overdose death rates.
This program complements Ulster County Outreach Program and the Dutchess Regional Care Coordinator to empower PWUDs in the Hudson Valley and strengthen their health care autonomy.