Posts Tagged 'drugs'
Monday, January 11th, 2021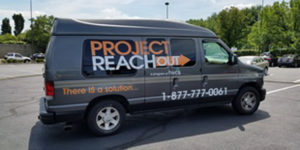 Since the 1980's, HVCS has provided services throughout Westchester County to people who use drugs, including HIV, STD and Hepatitis C prevention and education, HIV and STD testing, linkage to substance use disorder treatment services, and, when possible, emergency food and supplies. Many of these specific services were provided by our Project Reach Out program (PRO), which travels to Westchester's urban areas—places hit hardest by the double HIV and opioid epidemics.
We were just approved to offer what is called "second tier syringe exchange" services via our PRO staff. They will be able to provide access to syringes, recoupment of used syringes, Narcan trainings, referrals to treatment, and information about prevention services to people who use drugs (PWUD). This is a form of "peer-delivered" services, where staff are permitted to carry out exchanges wherever they are, without being fixed to a particular location like our other syringe exchange programs in Rockland and in the Mid-Hudson.
This is a significant enhancement to the PRO program and a boon to Westchester's PWUD population. By being embedded in the community and gaining clients' trust, we aim to refer even more people to substance use treatment facilities and other services than ever before.