Posts Tagged 'syringe exchange'
Monday, November 2nd, 2020
HVCS created this video for the New York State "End the Epidemic" campaign.
Monday, January 29th, 2018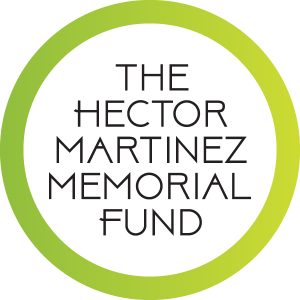 HVCS lost a member of its family late last year when Hector Martinez, our Lower Hudson PRO Supervisor, passed away unexpectedly. His dedication to his work, his rapport with fellow staff members, his passion, and his trademark sense of humor are irreplaceable and will be greatly missed.
We have decided to honor his commitment to helping our clients at their greatest hour of need by renaming what was called the Employee-Managed Fund (which we set up last year and is overseen by a committee of staff members) to The Hector Martinez Memorial Fund.
Currently the Fund is focused on helping clients who face small financial emergencies not covered by our other assistance programs. Clients, with help from their HVCS worker, can apply to receive VISA or store gift cards to help them overcome challenges, such as affording items for a new baby, school supplies, photos or other forms of identification to help with assistance applications, health-related emergencies (like first aid kits and post-operative care), etc.
The Hector Martinez Memorial Fund will also help clients who are homeless or out on the streets stay warm in winter and cool in summer by distributing seasonal care packs.
Thus far, monies in the Fund have come from employee gifts, but if you would like to make a donation in Hector's name to support the good work of his Memorial Fund, visit our Donate page.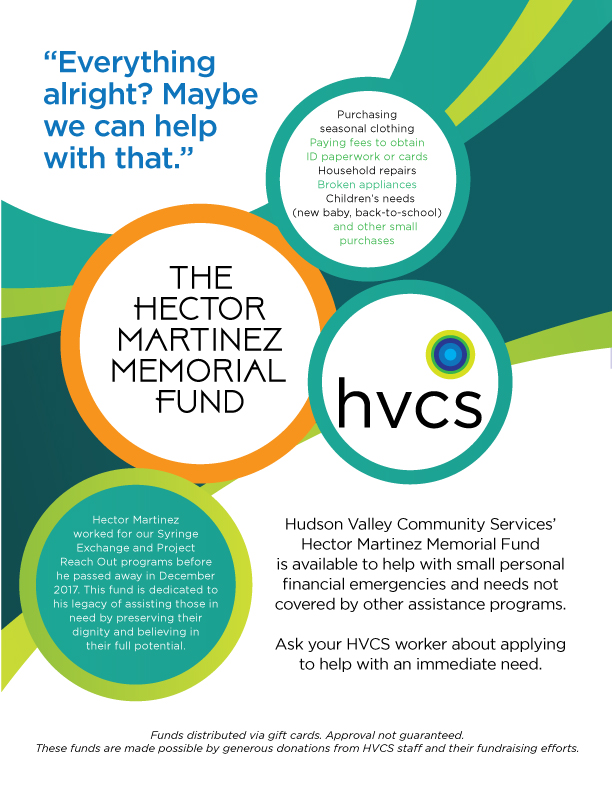 Wednesday, December 7th, 2016
HVCS' Syringe Exchange Program (SEP) is pleased to announced that it now serves Sullivan and Ulster counties, in addition to Dutchess and Orange. The New York State Department of Health's Harm Reduction Unit recently approved our plan to expand our successful syringe exchange van program to Kingston and Monticello.
The discrete SEP van will be located in Kingston at Elmendorf Street between Broadway and Tremper Avenue on Tuesdays and Fridays from 10:00 am to 12 noon and 1:00 pm to 3:00 pm.
The van will also operate in Monticello on Mondays and Fridays from 11:30 am to 12:30 pm and 1:30 pm to 2:30 pm, but interested clients and referring agencies must call (845) 476-2190 OR (845) 234-5225 for location.
The SEP program has kept thousands of used syringes off of the streets and out of the Poughkeepsie and Newburgh communities thus far. Program staff regularly offer trainings on the overdose prevention drug Narcan/Naloxone, and have saved several lives. Staffers estimate that the clients they have trained to administer Narcan themselves revive between three and five overdosing peers each month.
For more information on SEP, please call (845) 476-2190 or (845) 234-5225.