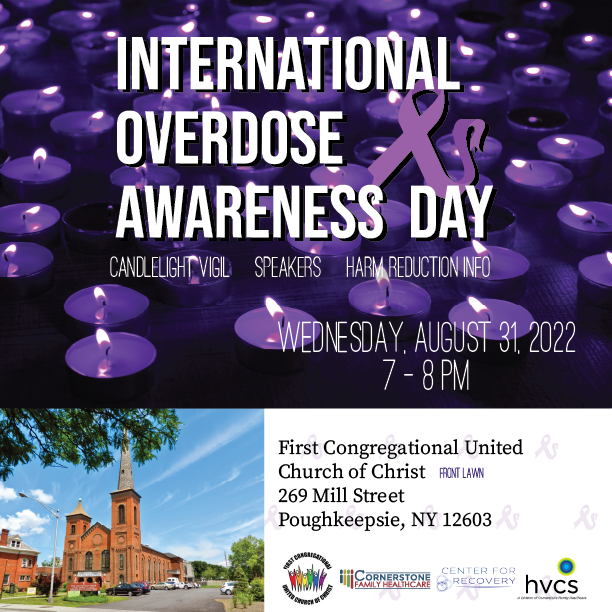 Hudson Valley Community Services, a division of Cornerstone Family Healthcare, is hosting a candlelight vigil in honor of International Overdose Awareness Day. This annual commemoration takes place on August 31st to pay respect to those lost to substance use overdose, raise awareness of local substance use disorder services, and end stigma around overdose, substance use and mental health.
Hudson Valley Community Services will hold a vigil with personal experience speakers, memorials, and harm reduction supplies on the front lawn of the First Congregational Church of Christ at 269 Mill Street in Poughkeepsie on Wednesday, August 31, 2022, at 7:00 pm. The Dutchess County Department of Behavioral & Community Health (DBCH) will offer Narcan training for people interested in receiving a free Narcan kit.  DBCH Deputy Commissioner, Jean-Marie Niebuhr, LCSW-R, will also provide an overview of the opiate epidemic and current responses in the Dutchess County community.
Overdoses due to opioid use have increased 28.5% year over year, according to data from the Centers for Disease Control's National Center for Health Statistics. 2021 saw the highest-ever recorded overdose deaths in the United States.
Hudson Valley Community Services and Cornerstone Family Healthcare operate harm reduction programs for people with and at high risk for substance use disorder, including medication assisted treatment (MAT), methadone, syringe access, behavioral health counseling and community education. They work in concert with other support providers in Dutchess and nearby counties, including the Stabilization Center in Poughkeepsie.
For more information about the International Overdose Awareness Day candlelight vigil, please call (845) 787-1789 or email jdewey@cornerstonefh.org.