In case you missed this week's big news from Albany, Gov. Cuomo announced that estimates of new HIV infections for 2014 show a decrease of 41% from 2006. Estimated new HIV infections were fewer than 2,500 for the first time. The estimated HIV incidence rate (that is, the rate of people living with HIV, per 10,000 residents) fell 43% since 2006.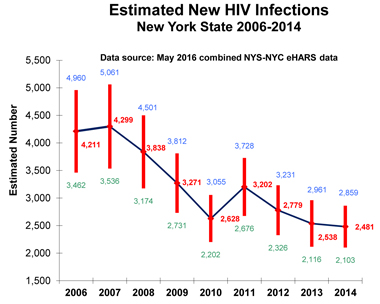 New estimates also report that 123,000 New Yorkers live with HIV, as of the end of 2014. About 10,000 do not yet know they are HIV-positive (8%). While this is good news overall, the report also estimates that only 62% of HIVers are virally suppressed (they have an undetectable viral load) and are, theoretically, incapable of infecting others. NYS would like to increase this percentage while continuing to decrease new infections to less than 750 per year by 2020.
Gov. Cuomo also announced an additional $4 million in funding to spread awareness of PrEP (pre-exposure prophylaxis). The NYS Department of Health unveiled new videos to educate the public about PrEP and a new website, PrEPforSex.org.
HVCS offers PrEP referrals, information and support, so please contact us if you're thinking about going on PrEP to stay safe from HIV. These are trends we want to see continue!
Tags: AIDS, Awareness, HIV, HIV Status, HIV Testing, New York State, News, PrEP, prevention, treatment