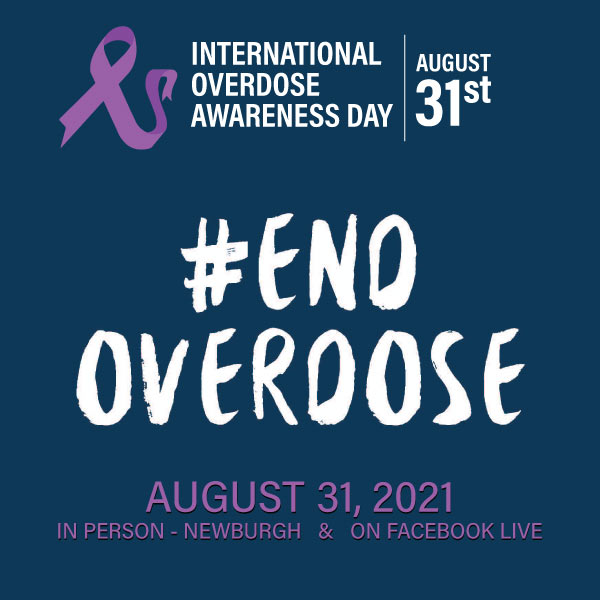 Hudson Valley Community Services (HVCS) and The Center for Recovery, two divisions of Cornerstone Family Healthcare, today announced plans for observances of International Overdose Awareness Day (IOAD). This day is set for a global remembrance of all those lost to substance overdose and to call attention to life-saving interventions that can reverse overdoses.
The 2021 observance is especially poignant given the widely-reported overdose fatality statistics for 2020, which set records. In the United States, more than 93,000 people died from substance overdose.
HVCS and Center for Recovery are partnering with T.E.A.M. Newburgh to hold two events: one in-person resource fair in downtown Newburgh, and a virtual event on Facebook Live. Both events will feature personal experience speakers, memorials, Narcan trainings, and harm reduction information related to substance use.
Narcan is a pharmaceutical intervention that stops overdoses. HVCS distributes Narcan kits with two nasal (inhaled) doses to those who complete the full training, whether taken in person or via video.
The in-person event will take place on Tuesday, August 31, 2021 from 1:00 to 4:00 pm in the lobby at 280 Broadway in Newburgh.
Organizers are also debuting a video observance on Facebook Live that same day from 6:00 to 6:45 pm. Viewers can log on to Facebook and it will be available there for repeat viewings.
"International Overdose Awareness Day is even more important this year than previous ones," said Jennifer Brathwaite, Vice President of Community Education and Prevention at HVCS. "Overdose deaths are rising because of the increased presence of fentanyl mixed into other substances." In the Hudson Valley, in 2020, 137 people died from heroin overdoses and 464 succumbed to opioid painkiller overdoses, including fentanyl.* During the same year, 2,031 lives were saved thanks to the administration of Narcan on people who were in the throes of overdose. Brathwaite also explained that since fentanyl is much stronger than other opioids, it may take additional doses of Narcan to revive and save a victim. "This is why it's critically important to train more people and distribute Narcan kits to all who need them," she concluded.