Electro Brunch: HVCS' 2023 Drag Brunch Fundraiser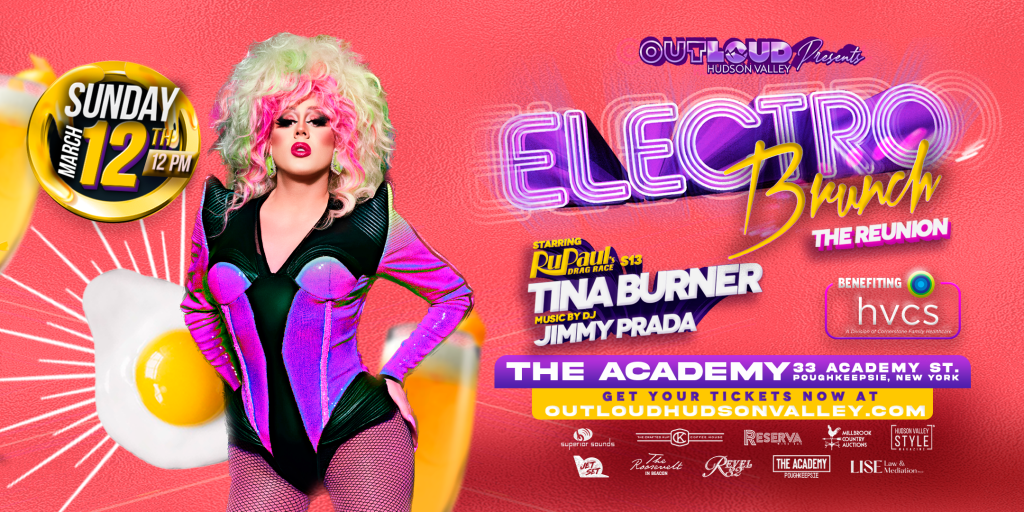 The HVCS Drag Brunch is back, baby! Tina Burner, from RuPaul's Drag Race Season 13, is ready to jolt Poughkeepsie awake with a one-of-a-kind performance during our Electro Brunch with Out Loud Hudson Valley at the Academy on Sunday, March 12, 2023 at Noon.
Tickets are $35.00 and proceeds benefit HVCS programs like our HIV/AIDS education services and emergency food closets. Please note: Tickets are for admission to the fabulous show… The Academy's full brunch menu, signature cocktails and full bar are sold separately.
For more information, visit the Eventbrite listing or call (845) 787-1789.
What Your Support Can Do
Electro Brunch is a fundraiser for HVCS' programs and services, like our HIV/AIDS, STD, Hepatitis C and substance use disorder prevention and education programs. In addition to the chronic disease management services we offer, our team provides life-saving and uplifting support for people at high risk for HIV infection, STDs, Hepatitis C (including connections to medical care that can cure HCV) and opioid use. These programs have been flat-funded for decades, even in light of New York State's "End the Epidemic" initiative to bring HIV infections to zero, and the record-breaking number of deaths due to opioid overdose in 2022.
When you buy a ticket to Electro Brunch, you're helping people in the Hudson Valley have a chance at a better quality of life.
Questions?
If you have any questions about this event, please contact J. Dewey at (845) 787-1789 or send an email.