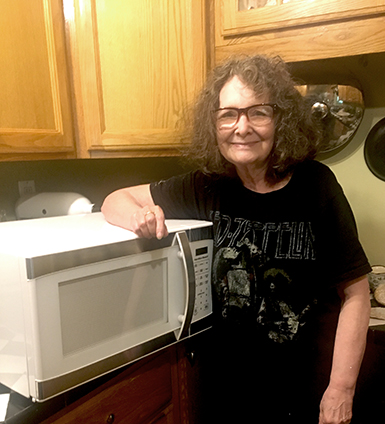 Gail*, who is in her seventies and lives alone, suffers from kidney disease and other health concerns. As a result, she has trouble standing and cannot cook for herself. Even if she wanted to, the oven and stove in her apartment do not work well–and she cannot afford to replace them or move. She started receiving assistance from Meals on Wheels, but she did not have a microwave to heat the meals. Gail ate her donated meals cold or had to trouble her neighbor to use her microwave.
Enter Gail's care manager, Jaclyn. When she learned that Gail was eating cold meals most of the time, she put in a request to HVCS' Hector Martinez Memorial Fund to purchase a new microwave. The Hector Fund, as we call it, was set up in 2018 in memory of Hector Martinez, a former employee, to provide emergency financial assistance for our clients.
Here's Gail with her new microwave, which she uses every day to enjoy hot meals–at last! She no longer feels like a burden to her neighbors, either. "I am so appreciative of HVCS and the Hector Fund!" she says.
If you would like to support the Hector Fund and enable more clients like Gail to live with dignity, please visit our Donate page.
*Gail has granted HVCS permission to share her story and photo.
Tags: Awareness, donations, Hector Martinez, special