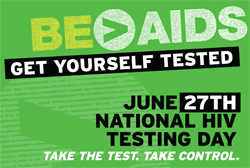 It's almost here: June 27, 2011, the seventeenth National HIV Testing Day (NHTD), weeks after the thirtieth anniversary of the CDC's announcement of a strange new disease syndrome. We know it now as AIDS and the virus that causes it as HIV.
NAPWA founded National HIV Testing Day (NHTD) in 1995 in response to the HIV epidemic's steady growth – especially in marginalized communities like people of color and men who have but also in middle-income neighborhoods where people thought, "it doesn't happen here." All Americans need to know they should Take the Test, Take Control, at least once a year. And we should also know that people with HIV who are in treatment with HAART drugs are significantly less at risk for passing their virus on the others than people with HIV who are not in treatment. Test-and-treat is not the whole answer to ending the epidemic, but it's an indispensable first step.
ARCS is participating in Nationial HIV Testing Day with these events:
Orange County:
ARCS' Project Reach Out is collaborating with a number of Newburgh-based agencies for a National HIV Testing Day event from 10:00 am to 4:00 pm at the corner of Johnston St. and Broadway, outside the Newburgh Ministry. FREE food, FREE fun, and FREE HIV testing. As always, HIV tests are confidential and the results are available in 20 minutes. Hosted by Project Outreach, Planned Parenthood, the Stephen Saunders Residence, TEAM Newburgh, Newburgh Ministry, H.O.N.O.R. ehg, OraSure, Hudson Health Plan and Fidelis. For more information, call Kristina at (845) 522-5756.
Sullivan County:
ARCS is collaborating with the Sullivan AIDS Task Force to create an HIV testing event on Tuesday, June 28th. More details to follow, or call Ginny at (845) 791-8871 ext 15.
Westchester County:
ARCS' CHAPS program for young men is hosting an HIV Testing Event and Movie Night on June 27th at the MOSAIC Center, 137 South 4th Avenue in Mount Vernon! CHAPS focuses on young minority men who have sex with men but all are welcome to attend this event. See the full schedule below.
10:00am – 11:30 am – Testing available; light breakfast.
11:30am – 3:00 pm – Testing continues; healthy snacks will be served such as granola, fruit snacks, trail mix, etc.
5:00pm – 7:30 pm– Dinner and a Movie. Check back here to find out which DVD the group will be watching!
For more information, please call Santo at (914) 699-1025 ext 103.
Tags: event, HIV Status, HIV Testing, Mosaic, MSM, PRO, special, Sullivan