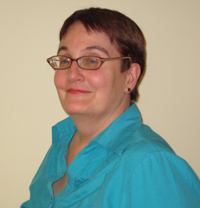 Jill Clockadale has joined ARCS' executive team as Director of Client Services.
Ms. Clockadale comes to ARCS from Greenwich House, a small HIV primary care agency. Her new role at ARCS is a continuation of a long career in the HIV/AIDS service sector.
She received a BA in Liberal Arts from Michigan State and went on to receive her MSW at the University of Michigan. For the first thirteen years of her career, she worked in the child welfare system in Michigan and New York.
Her work with HIV/AIDS clients began in 1987 when she volunteered for GMHC in Manhattan as a support group co-facilitator. She began her case management experience in Beth Israel Hospital's methadone clinic. "In those days, people with HIV had eighteen months to live," she said. "This was before there were any antiretroviral medications."
Ms. Clockadale is proud to have worked in every borough of New York City. She commuted daily from Mohegan Lake, where she and her husband, William Ayvazian, have lived since 1997. She is a former board member of the Lower Manhattan AIDS Service Center, where she first heard about ARCS' work in the Hudson Valley.
There are several differences to overseeing ARCS' care management and client support services, she notes. "Transportation and housing are completely different in the Hudson Valley than the city. They are much larger hurdles for our clients, and there is a definite shortage of affordable housing for low-income residents here."
Her goals as Director of Client Services are to increase staff retention and to manage change in a constantly changing field. She also plays an integral part in ARCS' conversion to the new regional health home networks for Medicaid-eligible clients. "It's a challenge, since we are coping with New York State's brand-new regulations, but I believe that you always have to look forward."
Tags: ARCS, Client Services, staff