Fashion Project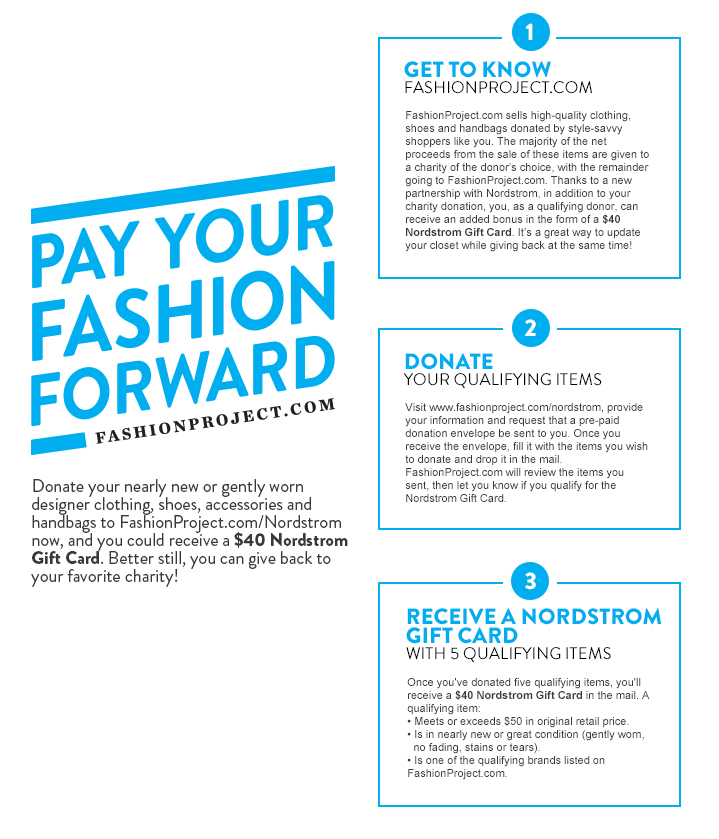 Thanks to our ongoing partnership with Nordstrom, we are excited to let you know about a new program called Fashion Project (http://www.fashionproject.com). This is a website that benefits non-profit organizations like HVCS by selling clothing, shoes, handbags and accessories donated by style-savvy shoppers. Through this new program, people have an easy way to shop, donate clothing, earn a Nordstrom gift card and give to the causes they love – including HVCS!
Here's how it works: Donors send their gently-loved qualifying designer clothing, shoes and accessories to Fashion Project (visit the website to learn more about qualifying items). When items sell, 55 percent of the proceeds go directly to their favorite charity–that would be HVCS, right? (The remaining 45 percent goes to Fashion Project's administrative costs.)  Now, in addition to the charity donation, for every five qualifying items donated to Fashion Project, donors will also receive a $40 Nordstrom gift card. So now you can give back and update your closet, all at the same time!
So start shopping on FashionProject.com right now, and when you do your spring cleaning, save those gently-worn clothes for a donation to Fashion Project!