Volunteer Appreciation Party
40 of our wonderful, dedicated volunteers joined us on December 8th for our Volunteer Appreciation Party at Chill Wine Bar in Beacon. Special thanks to Little Boy's Deli for donating delicious mac 'n' cheese, Chill Wine Bar for being our hosts and providing complimentary cheese platters, and to Terry Gipson, NYS Senate candidate, for stopping by.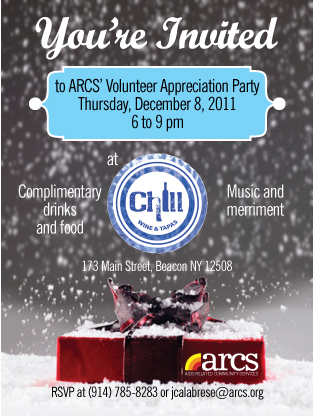 Calling all ARCS volunteers! Please join us to celebrate the work you do all year on behalf of ARCS' clients. Chill Wine Bar is once again opening its door to ARCS for an evening of casual conversation, festive food and beverages of all kinds.
To RSVP, please call Jana at (914) 785-8283 or email jcalabrese@arcs.org.
Related Events