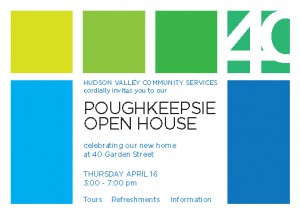 Welcome to our new Poughkeepsie home! Please join us on Thursday, April 16th between 3 pm and 7 pm for a ribbon cutting ceremony to officially open our newly-relocated Poughkeepsie office at 40 Garden Street. The Dutchess County Regional Chamber of Commerce will hold a ribbon cutting ceremony at 3 pm, followed by refreshments, cake and tours of the new space. You can also pick up your Hudson Valley AIDS Walk materials and learn more about getting involved with us.
Please RSVP to Lauren at (845) 471-0707 x10 before April 9th.
HVCS is located on the fourth floor, in Suite 401. Parking is available in nearby municipal lots.