Empty Bowls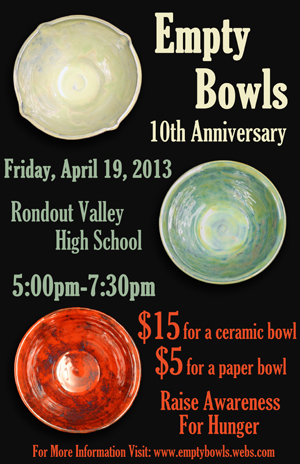 On Friday, April 19th, Rondout Valley High School in Stone Ridge (or Accord, depending on who you ask) is holding its 10th annual "Empty Bowls" event to raise funds for local food pantries – including our Kingston emergency food closet. How it works: upon arrival, you buy a $15 ceramic bowl created by local artists and students – they come in hundreds of different colors and patterns, and each one is unique. Then, you fill your bowl with delicious soups donated by local restaurants, or ice cream (they'll wash your bowl in between, too!) for dessert.
Here's a few links to more info:
https://www.facebook.com/events/271023883028981/
http://www.emptybowls.webs.com/
Check out our Xtranormal video too!
Empty Bowls
by: thursdayd
Empty Bowls Benefit Dinner on April 19, 2013
Related Events