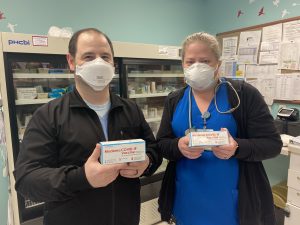 Sign up for the COVID-19 vaccine waiting list at Cornerstone Family Healthcare here: https://cornerstonefamilyhealthcare.org/covid-19-vaccine-contact/
Cornerstone holds its vaccinations at its Kaplan Family Pavilion at 147 Lake Street., Newburgh.
Here's the process once you sign up for the wait list:
You add yourself to the wait list
Cornerstone receives shipments of Pfizer and Moderna vaccines weekly. Upon receipt of each shipment, Cornerstone will send a text message to people on the list.
You will be prompted to respond with a Yes/No if you still want the vaccine.
If you respond Yes, Cornerstone's COVID-19 vaccine team will call you to make a first appointment.*
Staff will schedule your second dose at your first visit (21 days for Pfizer, 28 days for Moderna.)
*As of April 13, 2021, Cornerstone Family Healthcare has suspended its Johnson & Johnson vaccine delivery in accordance with CDC guidelines.
Get more COVID-19 news and resources here.