COVID-19 Vaccines at Cornerstone Family Healthcare
Sign Up Online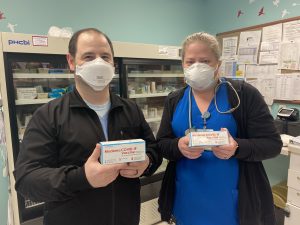 Access the COVID-19 vaccine sign-up form at Cornerstone Family Healthcare here: https://cornerstonefamilyhealthcare.org/covid-19-vaccine-contact/
Cornerstone holds its vaccinations at its Kaplan Family Pavilion at 147 Lake Street., Newburgh.
What you should know:
Cornerstone offers the Pfizer and Moderna (two dose) vaccines and the Johnson & Johnson (one dose) vaccine.
Staff will schedule your second dose at your first visit (21 days for Pfizer, 28 days for Moderna.)
Cornerstone also offers a third shot of Pfizer or Moderna for people who are immunocompromised (such as those who have received an organ transplant, or have untreated or poorly treated HIV infection), a very small percentage of the populationl
Cornerstone is not currently offering booster shots but may do so soon. Check back or contact Cornerstone for more information.
Get more COVID-19 news and resources here.